Hungary is set to establish its own vaccine production site. State secretary of the Ministry for Innovation and Technology told V4NA about the details. The coronavirus pandemic has again proved how important it is for Hungary to stand on its own two feet and to produce what it needs to ensure the safety of the population – a policy that the Hungarian government has adhered to since 2010, the politician said.
The cornerstone of Hungary's National Vaccine Plant is to be laid in late August with production slated to start in the second half of 2022. The aim of establishing the factory is for the country to be able meet its own demand for jabs and reduce the country's vulnerability to foreign manufacturers, State Secretary Laszlo Gyorgy, head of economic strategy and regulation under the Ministry for Innovation and Technology, told V4NA.
"Hungary's government has been pursuing a pragmatic and patriotic economic policy since 2010, stemming from the conviction that the country must be able to produce what it needs to ensure the safety of the population," the state secretary said. He added that,
"BRUSSELS ADHERED TO A DIFFERENT LOGIC FOR A LONG TIME, BUT THE OUTBREAK OF THE CORONAVIRUS PANDEMIC HIGHLIGHTED HOW IMPORTANT IT IS TO STAND ON OUR OWN TWO FEET, OTHERWISE WE CAN BECOME RATHER VULNERABLE."
There was a shortage not only of vaccines, but also of ventilators and masks across Europe, he recalled. Therefore, it is important to avoid being in such a predicament in the future, if possible, he added. "Since it is in the national interest to have our own vaccine plant, and to launch domestic production, the Hungarian government began preparations for setting up a vaccine factory in Debrecen [in eastern Hungary], back in 2017 – well before the outbreak of the coronavirus pandemic," he emphasized.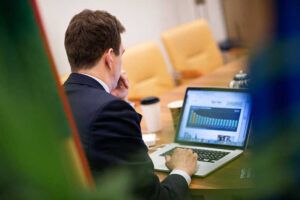 The University of Debrecen, in the country's second largest city, has amassed knowhow through a network of instructors and researchers which can serve as a competitive edge on an international scale in the future, the state secretary said.
"Establishing a domestic vaccine plant will contribute to the development of an industrial culture that will lead to a wealth of discoveries, stimulate the creativity of Hungarians, and create jobs producing high added value and paying high salaries," he pointed out.
A consequence of the neoliberal economic policy pursued with short interruptions until 2010, is that human vaccine production – which had operated in Hungary for almost one hundred years until the 1990s –  almost completely ceased causing a stunting of relevant knowhow.
Hungary's National Vaccine Plant will produce a variety of vaccines, including the Hungarian COVID vaccine, currently under development.
Hungarian Foreign Minister Peter Szijjarto recently announced that the factory will also be producing the Chinese COVID jab.
The Chinese Sinopharm vaccine was approved in Hungary at the end of January, and general practitioners started inoculating registered elderly people with it on 24 February.
"The vaccine is not an ideological or geopolitical question, it is a tool to save lives. If human lives had not been at stake, we could easily laugh out loud, dismissing all those who had been spouting all kinds of nonsense about the Chinese vaccine," he said.
FM Szijjarto pointed out that if the government had not procured vaccines from Sinopharm, "one million fewer Hungarians would be vaccinated, we would not top the EU vaccination rankings, and we would not have been able to take major steps towards life as normal."
The cooperation will continue, Hungary is to adopt Sinopharm's complete manufacturing technology, which is an important advantage as there will be an ongoing need for vaccines in the world, Mr Szijjarto added.
Apart from COVID jabs, State Secretary Laszlo Gyorgy emphasized while talking to V4NA, that the plant in Debrecen will produce a number of other vaccines for the prevention of illnesses. In essence, Hungary's basic vaccine supply security will be guaranteed. As he said,
"WE WILL BE ABLE TO SUPPLY HUNGARIANS WITH PROPER VACCINES AND ALSO EXPORT JABS. WE CAN SUPPLY THE PEOPLE LIVING IN THE CARPATHIAN BASIN AND THE REGION WITH THE NECESSARY VACCINES."
V4 Agency